The new BAT Centre opened on February 15, 1999. Located on Commercial St. between Centre and Court Streets, the new bus terminal is directly across the street from the Brockton Police Station and the Brockton Commuter Rail station.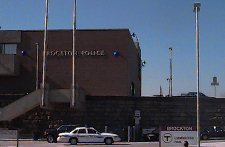 The new BAT Centre presently has parking for more than 110 vehicles, with spots for about 12 handicapped-driven vehicles. At some point, there will be an increase for 275 vehicles by summer. At present parking is only $1.00.
The inside of the Centre has seating and a ticket/information booth. You can get schedules at the booth or purchase monthly passes for $24.00 (Brockton) or $48.00 (Ashmont/Brockton). There are also spots for retail shops, one of which has been leased by Honey Dew Donuts.
Unfortunately, several businesses have not been able to make a go of it at the BAT Centre. Webby's Convenience store, which sold newspapers, magazines, train passes, drinks, etc., has closed. Gone too is the drop off dry cleaners. Even the Community Bank ATM machine has disappeared. Hopefully, BAT management will work to fill the empty slots, and make the centre less like a ghost town.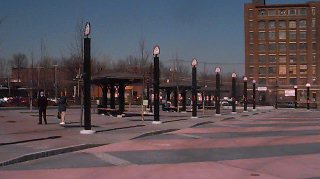 Outside, the new BAT Centre has covered seating by the bus bays, good lighting, newly planted trees, and well-designed signs so that people can find the correct bay to wait for a bus.
The MBTA Commuter Rail is located across Commercial Street from the BAT Centre. Read all about the new Old Colony Commuter Rail, and its scheduled trips through Brockton on our Rail Info Page!
last updated April 26, 2001