The 10th Anniversary
of Fr. Richard S. Bradford's
ordination to the Sacred Priesthood of the Catholic Church
On May 30, 2008 we celebrated Fr. Bradford's 10th anniversary in the chapel of St. Theresa of Avila Church in West Roxbury, Massachusetts. Assisting Fr. Bradford at the altar were Fr. Charles Higgins (as deacon), the pastor of Mary Immaculate of Lourdes Parish in Newton Lower Falls and Deacon Michael Connolly (as subdeacon), Archdeacon of the Catholic Armenian archdiocese and professor of languages at Boston College. The anniversary coincided with the Feast of the Sacred Heart of Jesus.
Fr. Charles Higgins chants the Gospel.
Fr. Bradford preaches the sermon.
Fr. Bradford and the ministers during the Preface.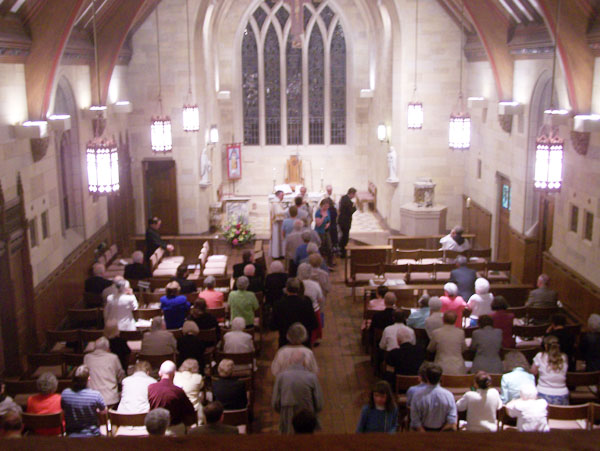 Distribution of Holy Communion.
Chanting the Te Deum at the end of Mass. This version of the Te Deum was arranged and accompaniment composed by Raymond H. Clark (b. 1944) of San Diego, California.