The Plouffe School Chorus presented their second annual Holiday Concert in December. Molly was part of the chorus this year (third row back, second in from left). As a finale, the kids got out front for the "Reindeer Hop" (right).
Following our annual tradition, all the Cavanaughs gathered at our house for Christmas Eve. Carlie was voted best dressed, seen above with Cheryl, and everyone was in their finery (except Shawn, who was sick in bed). This year we even got to have our stockings hung properly, having had the chimney reparied and cleaned, allowing us to finally build a fire in the fireplace.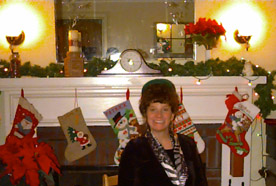 Christmas day was the usual flurry of shredded, colored paper, rushed thank-yous and playing Santa. And of course, hot coffee and warm maple butter twists!
Later on Christmas Day we visited Laurie's parents in Holbrook. Laurie's sister Linda and her family made their annual trek from Connecticut for the holiday, and our children continued their Christmas revel with their cousins.