Happy Easter to all!
Easter this year fell during the middle of a thus-far lovely Spring, and the day dawned warm and sunny, with flowers blooming all around our home, with daffodils and tulips in the front and hyacinth, forsythia and peach blossoms behind. In a last minute burst of activity, we spent Saturday baking and shopping for clothes, and then just after 9 am headed off for Mass.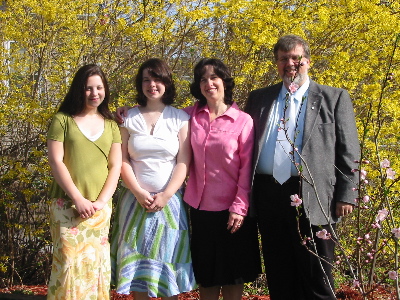 We arrived in West Roxbury for Mass at St. Athanasius, and began divine service with a procession singing Ralph Vaughn Williams "Hail Thee Festival Day".
And then continued with Mass, which included the sequence "Victimae Paschali Laudes" in the Hymnal 1940 version.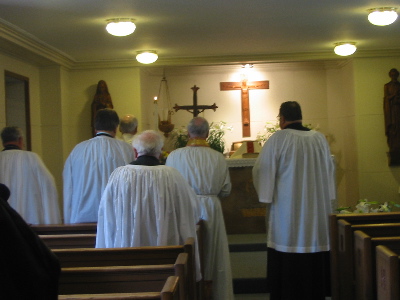 Then back home to finish preparations for dinner. My brother Danny (batching it for the week while Cherly and Carlie began their vacation in Florida early) and friend Fred joined us for dinner.
We enjoyed a game of Phase 10 while appetizing on Easter eggs and antipasto, before sitting down to dinner of roast leg of lamb, ham, baked stuffed potatotes, asparagus, corn, glazed carrots, roasted potatoes, crescent rolls, challah bread and a great oreo cheesecake that Laurie baked.