Music in the Family

---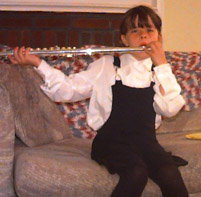 We've remixed the musical orientations of the kids this year. Althea and Molly are continuing with the St. Colman's Church Youth Chorale, which sings once per month at Family Masses at 10:00 am. Patrick has opted to join the chorus at the school.
Pat decided not to continue with the clarinet, but Molly has taken up the flute. She's been practicing without too much prodding, so we're hoping that she'll make as much progress as Pat did last year.
I'm still singing with the St. Colman Chancel Choir as well as singing as cantor at some Masses. And while it's not all that musical, I'm teaching 6th grade CCD too.
updated October 29, 1998