Visiting Boston with Martin and Susan Bruegel

July 11, 2009
Martin and Susan stopped in for a couple of nights on their way from Pennsylvania to a Maine camping vacation, so on Saturday I headed into Boston with them and Barbara and George for a tour of the city and to see the tall ships that were in town for the week.
Sue, Martin and Barbara while we were on the harbor walk between South Station and the NE Aquarium.
Martin, Sue, Barbara and George en route.
A French tallship, with a tricolor looking like it had just emerged from battle, makes its way across the inner harbor.
One of Boston's own Liberty fleet sailing into the harbor.
George and Martin atop the ferry en route to Charlestown.
The Zakim bridge that connects Boston with Somerville.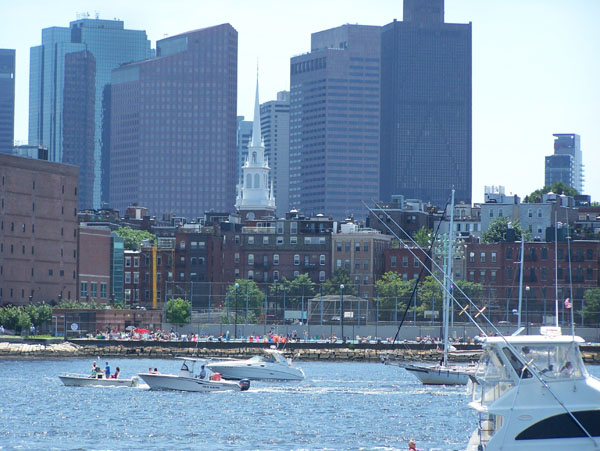 The Old North Church (Christ Church Episcopal) amid the towers of the new Boston.
Tall ships docked in the Charlestown Navy Yard.
The Amistad and a companion ship.
While viewing some of the ships up close, we came across a visitor from the North!
The Coast Guard's USS Eagle.
A modern navy cruiser.
At the Bunker Hill monument, an exhibition on musketry.
The Bunker Hill monument from its base.
Martin and Sue on Breeds Hill.
Sue getting a close up to a Boston native.
Looking on the inner harbor from the bridge that crosses from Charlestown to Boston.
The Old North Church from the street.
At lunch we were joined by Bill and Lauren, and then went on to see the Paul Revere House.
A close up in front of the Revere house.