UPDATE: February 2, 2023.

NEW DAYS, NEW VENUE!
Silver City Dancers will be holding all our regular dances on Sunday afternoons at the Taunton VFW Post, 82 Ingell St., Taunton, Mass, from 2 to 6 pm.

Our next dance will be Sunday afternoon, February 12th at Taunton VFW, 82 Ingell St, Taunton, MA. The dance will be from 2 to 6 pm. Admission is $10.00.
Our 2022 schedule of dances.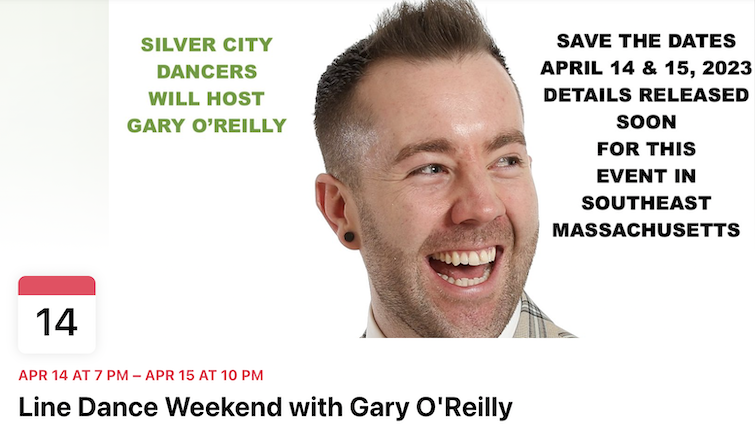 Silver City presents Gary O'Reilly, renowned international star choreorgrapher and dance instructor. Gary will be with us April 14th and 15th for a Friday evening dance followed by a Saturday workshop and Saturday night dance. Full details including venue, times, prices coming soon!
2023 dates on Sunday at the Taunton VFW: February 12th, March 12th, April 2nd, May 7th, June 11th, September 24th, October 15th, November 5th, December 10th
Please see our Where to Line Dance page for updated details on other local line dance opportunities.