Here's our latest schedule of outdoor and inside line dances and classes.

Monday: Mixed-level lessons and line dancing at Carousel Family Fun Center in Whitman, MA, 7:00-9:00 pm. Admission is $10.00

Tuesday: Line dancing with beginner lessons at Giardino's Italian Restaurant, 497 Bedford St (route 18), Abington, MA 02351 from 7 to 9 pm. No cover, tips welcome. Great food and drinks at this venue!

Wednesday: Senior (60+ yrs) line dancing at the Raynham Senior Center, 2215 King Philip Street, Raynham, MA 02767 from 1 to 2 pm. Raynham residents only at this time. Call 508-824-2740 to register. $2.00 per class.

Thursday: Senior (60+ yrs) line dancing at the Pavilion at Everett Leonard Park in Norton, MA from 11 am til 12 noon. Please register with Norton Council on Aging at (508) 285-0235. $2 per class.

Thursday: Senior line dancing at the Rev. Gordon Larson Senior Center at 25 South Main Street, Attleboro, MA from 1-2 pm. Please call 774-203-1906 to reserve your spot; no drop-ins allowed. $2 per class. Thursday: Once per month, Country Night at the Marriott Boston in Quincy, MA from 7 to 10 pm. Discounted (15%) dining at the Hull & Mason restaurant for dancers. Admission $10.00. July 22, August 26, September 16.

Friday: Line & Pattern Partner dancing at Holy Ghost Hall, East Taunton, MA, 7-11 pm. Next date: August 13th. Admission is $15.00. Preregistration required.
Future 2021 dates: Aug 27, Sep 3 & 10, Oct 8, 22 & 29, Nov 5 & 26, Dec 10.

Saturday: Steve & Laurie regularly join Forty Arroyo for one of her regular Saturday workshop days at the Hayloft Barn in Sturbridge, MA. We'll be there next on August 14th. Check out all the Saturday workshops at Forty's website https://www.dancewhileucan.com/

Visit our Facebook page
for updates and news.
---
Our next Country Night at the Marriott Boston in Quincy will be Thursday, July 22nd from 7 to 10 pm.
To register in advance, use PayPal to register. If you prefer Venmo, you can send your $10 admission to Steve at @Stephen-Cavanaugh-6. If you need the last 4 digits of my phone #, that would be "0065".

---
Thank you to all the dancers who joined us for our annual Boston Harbor sunset line dance cruise, held July 18, 2021. Photos and video will be posted soon!
You can view photos and videos of the 2019 event at this link: Second Annual Best of Both Worlds Sunset Line Dance Cruise - 2019. And the photos and videos from our first annual cruise in 2018 are still available here: First Annual Best of Both Worlds Sunset Line Dance Cruise - 2018.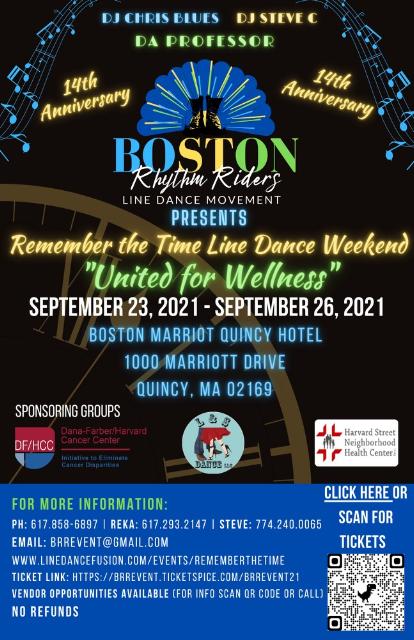 Remember The Time Line Dance weekend, a line dance fusion event will be coming to the Boston Quincy Marriott Hotel from September 23rd through September 26th. Hosted by the Boston Rhythm Riders Line Dance Movement and L&S Dance, it will be 4 days of soul, country and pop line dancing with workshops, dance parties, Saturday dinner, Sunday brunch, vendors and more. Regular Admission Tickets are now available for just $120.00 for the entire weekend. To register, visit the TicketSpice site. More information is available at the Line Dance Fusion web site.