CLASS AND SOCIAL DANCE SCHEDULE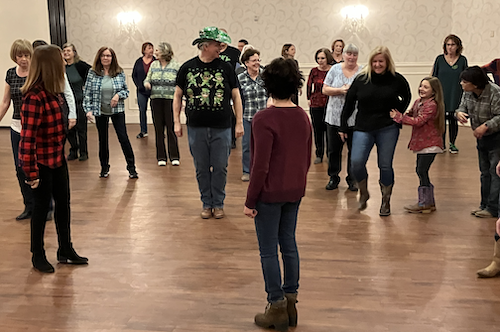 MONDAY
Franklin Council on Aging, Franklin, MA. 11 am - 12 noon. ($2)
Wrentham Council on Aging, Wrentham, MA. 1-2 pm. ($2)
East Bridgewater Commercial Club, East Bridgewater, MA 6:30-7:30 pm beginner lessons ($5), 7:30-9:00 pm intermediate lessons ($10) - please note, no class in E. Bridgewater on May 29th or July 3rd or Sept 11th.
TUESDAY
Easton Council on Aging, Easton, MA. 11 am - 12 noon. (free)
Taunton Council on Aging, Easton, MA. Line dancing: 2:30 - 3:30 pm. (residents only, free) Line dancing at Taunton VFW, 82 Ingell St., Taunton, MA ($10). Lessons 6-7, open dance 7-9 pm. (no dancing at the VFW in July)
WEDNESDAY
Attleboro YMCA, Sweet House on Peck St, 9-10 am ($2)
Raynham Council on Aging, Raynham, MA. 1-2 pm. ($3)
Middleboro Elks, 24 High St. Beginner line dance class, 6-7 pm. Open dancing from 7-10 pm.($10 admission, Elks members free)(May 31st, June 14th, June 28th)
THURSDAY
Norton Council on Aging, Norton, MA. 11 am - 12 noon. ($2)
Good News Bible Chapel, Attleboro, MA (COA line dance). 1-2 pm. ($2)
Hillside Country Club, 82 Hillside Ave, Rehoboth, MA. 7-10 pm (June 22nd, July 13th, August 3rd, September 21st, October 12th, November 16th) (no cover, tips welcome)
FRIDAY
Easton Council on Aging, Easton, MA. 11 am - 12 noon. (free)
Carousel Family Fun Center, Whitman, Intermediate Classic Workshops and reviews, MA 1 pm - 3 pm (May 19)($10)
SATURDAY
Norfolk Grange, 28 Rockwood Rd, Norfolk, MA, 1-4 pm. (Sep 23rd, Oct 14th, Nov 11th, Dec 16th) ($5)
SUNDAY
Silver City Dancers: VFW Post, 82 Ingell St., Taunton, MA. 2-6 pm. 2023 dates: June 11th (Felicia), September 24th (Steve), October 15th (Felicia), November 5th (Felicia), December 10th (Steve) ($10)
---
SPECIAL EVENTS
.
June 3, 2023: CountryFest on the Common
Join Steve & Laurie for line dancing with 6 New England Country bands from noon 'til 6 pm at the Hancock-Adams Common in downtown Quincy. Free for the community. Beer/wine and food trucks on site. Bring a chair and start the summer season with Cashwood, the Jake Ash Band and more.
June 10, 2023: Intermediate workshop at the Hayloft Barn
Join Forty Arroyo and Steve for a day of intermediate lessons and open dancing. Forty and Steve will each two dances, with plenty of time for dancing in between. Doors open at 9:00; dancing from 9:30 til 3 (with a break for lunch). Just $20 for the day. Register with Forty at forty.arroyo@gmail.com.
June 16-17, 2023: Northeast Line Dancers for Kids, hosted by Forty Arroyo. I'll be teaching along with 11 other instructors from around New England. Join us at the Hayloft Barn, Sturbridge, MA. More info at https://www.dancewhileucan.com.
July 16, 2023: 5th Annual Best of Both Worlds Harbor Line Dance Cruise. Sailing on the Music City Queen, leaving from Rowes Wharf, Boston, MA, sailing from 5-8 pm. Get your tickets ($45) at Eventbrite.
July 28-30, 2023: Wobble on the Hudson line dance weekend with DJ Chris Blues, Special Guest Choreographers, Bernadette Burnette, Steve Cavanaugh and Bernard Smith in Peekskill, NY. Register by March 31, 2023 for just $30.
August 25-27, 2023: Join us for the biggest line dance event in New England, The New England Line Dance Showstopper, with Jill Weiss & Steve Cavanaugh as your directors. We'll be at the Crowne Plaza Hotel in Warwick, RI. Visit http://www.neldshowstopper.com for more details and to sign up and book your hotel room. Join us for a pre-party on Thursday at the Mishnock Barn. Pre-party entry is $10 paid to the Barn at the door.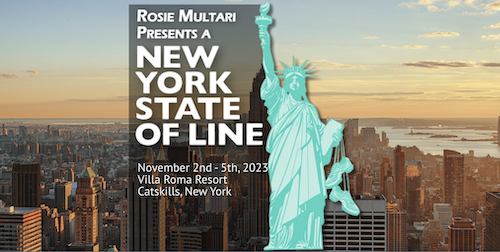 Nov 2-5, 2023: New York State of Line (NYSOL) at the Villa Roma Resort in Callicoon, NY with Rosie Multari. I'll be teaching on Thursday night! Register at the NYSOL website, and contact Rosie with any questions at: rosiemultari@gmail.com.
Nov 17-19, 2023: Donna Shea's Floor Filler - I'm back as an instructor in 2023! Westford Regency Inn and Conference Center, Westford, MA. Follow the Floor Filler Facebook page for updates.
May 17-24, 2024: Line dance cruise to Bermuda with Steve & Laurie. It's a party on the water! We have some spots available for this one, so contact our travel agent Ellen Hull (email: ehull@cruiseshipcenters.com or phone: (732) 814-8949) to book your cabin. See the flyer below!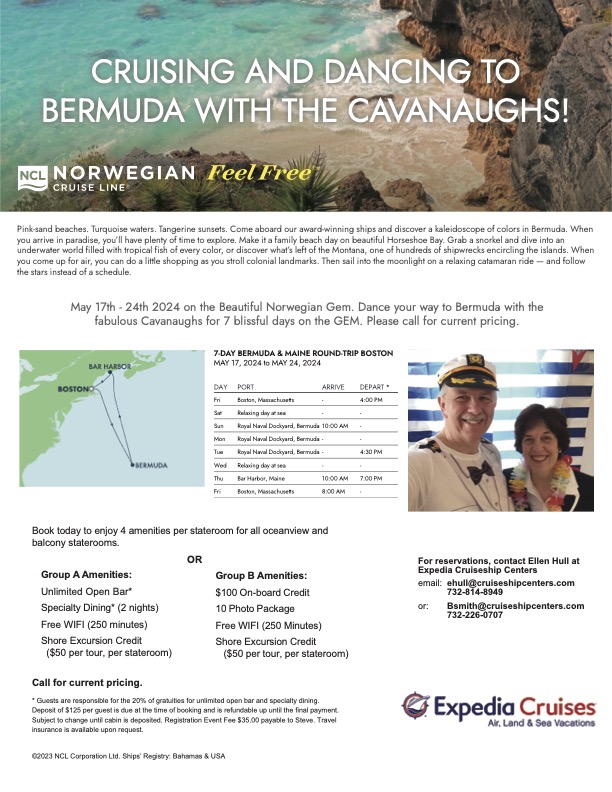 ---
Visit our Facebook page
for updates and news.