Regular dance and class schedule, a mix of outdoor and inside line dances and classes.

Monday: Mixed-level lessons and open line dance at Carousel Family Fun Center in Whitman, MA, 7:00-9:00 pm. Admission is $10.00

Tuesday: Beginner line dance lessons at the Pavilion at Everett Leonard Park in Norton, MA from 5:30 to 6:30 pm. Registration is $40 for 5 weeks or $10 per class. Tuesday: Mixed-level outdoor line dancing at the Pavilion at Everett Leonard Park in Norton, MA, 6:45-8:45 pm. This is restricted to 24 people because of the venue size. Please email Steve if you plan on joining us. Cost is $5.00

Thursday: Mixed-level lessons and open line dance at Carousel Family Fun Center in Whitman, MA, 7:00-9:00 pm. Admission is $10.00

Friday: Beginner line dance lessons at Carousel Family Fun Center in Whitman, MA, 10:30 am til 12 noon. Admission is $10.00.

Saturday: Mixed level line dancing at King Oak Hill park in Weymouth, MA from 10:30 am til 12 noon. Admission is $5.00. Limited to 24 dancers, please email Steve if you'd like to join us.

Sunday: Open line dance at Carousel Family Fun Center in Whitman, MA, 7:30-10:00 pm. Admission is $10.00


As the weather warms up, we'll be hosting occasional "pop-up" outdoor dances around the South Shore. For updates, check out our Facebook page
.
---
---
The annual Boston Harbor sunset line dance cruise will be held July 18, 2021. Registration is now open. You may download a flyer and mail it in or register online via Eventbrite (for a small additional fee).

Registration form: Line Dance Cruise 2021 Registration Form.
Eventbrite link: https://tinyurl.com/sae3ns4e

As in past years, this will be a "Best of Both Worlds" sunset cruise in Boston Harbor, two decks of dancing music for soul and country/mainstream line dancing. We will be sailing on Boston's premier cruise ship, the Provincetown II, boarding from the Boston World Trade Center. Plan on joining us for the premier line dance event of the summer!



You can view photos and videos of the 2019 event at this link: Second Annual Best of Both Worlds Sunset Line Dance Cruise - 2019. And the photos and videos from our first annual cruise in 2018 are still available here: First Annual Best of Both Worlds Sunset Line Dance Cruise - 2018.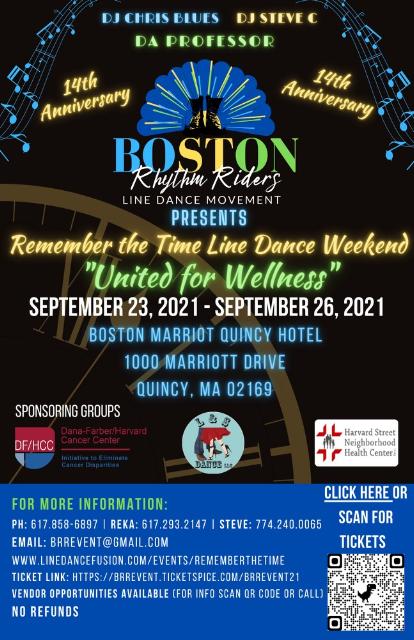 Remember The Time Line Dance weekend, a line dance fusion event will be coming to the Boston Quincy Marriott Hotel from September 23rd through September 26th. Hosted by the Boston Rhythm Riders Line Dance Movement and L&S Dance, it will be 4 days of soul, country and pop line dancing with workshops, dance parties, Saturday dinner, Sunday brunch, vendors and more. Early Bird Tickets are now available for just $95.00 for the entire weekend. To register, visit the TicketSpice site. More information is available at the Line Dance Fusion web site.