After 9 months of planning and scripting, the first issue of Hyper Quarterly was mailed out to subscribers on Monday, June 2, 1997.
Our premier issue contains 11 stacks including the Front End designed by HangTime. You can get a brief description of each stack on this page, as well as view a screenshot of each stack. If you're viewing this page with the Lynx or Spectrum Internet Suite browsers, you should be able to download the images for viewing on your computer locally.
---
Contents of Issue 1
TZ Rolodex
Keep track of your contacts while this stack tracks their time and keeps them sorted for you.

---
Good Eats!
Dozens of recipes for you to sample, and plenty of room for your own culinary creations.

---
Quarknet
Offline message processor for Delphi--tons of great features that will make browsing Delphi forums easier and more productive.

---
PostScripter
Resize and reposition PostScript files you create in IIGS graphics programs, and print them in stunning detail!

---
HC.Word
A text editor for HyperCard with advanced features like automatic "fancy text" (ligatures, etc.) and HTML export

---
A la Carte
Automatically create menus for your own HyperCard stacks with no fuss or bother.

---
ScriptMenu
put a Scripts menu in every stack as you work on it -- lists every object in your stack and lets you instantly open scripts associated with those objects.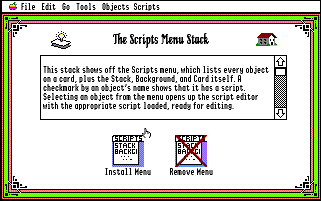 ---
TableMaker
Need to create a quick HTML table for your Web page? With this stack, no knowledge of HTML is needed, just fire up this stack and create away.

---
BookMark Manager
Is your Lynx Bookmark file getting unruly? Wish for a better editing option than VI or emacs? Here it is!

---
HTML.to.WP
Need to download and print some web pages -- with formatting? This stack converts HTML to WordPerfect format so you can do it.

---
Hyper Quarterly is a disk-based subscription from the publisher of The Apple Blossom. Our first issue features the work of Josh Calvin, Brian Gillespie, Gareth Jones, HangTime and Steve Cavanaugh. Stacks are created with HyperCard IIGS, and are delivered on two disks via first class mail.
To get the most out of Hyper Quarterly you'll need:
an Apple IIGS;
1.5 MB of RAM (more is better);
a Hard Drive;
System 5.0.4 or later (System 6.0.1 preferred);
a 3.5-inch disk drive;
and HyperCard IIGS version 1.1.